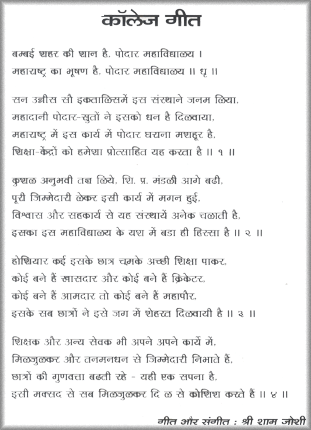 The College advocated the philosophy of:

Vision : 'Samaani va aakooti samaanaa hridayaani vaha' (one in mind and one in heart )- may this be the atmosphere in which we work in Podar, so that a spirit of healthy competition prevails - one, in which, each lives and lets another live a more purposeful life. The meaning of this verse is that God has created us all equal. We have the same soul. Our thoughts and feelings are the same, irrespective of our region, religion and culture. The ethos of universal brotherhood is brought to the fore through the vision as the students, faculty and every other functionary believe that we are one - one nation, one community and one religion. The admission process bears testimony to this underlying philosophy which ensures equality and fairness. The college also firmly acknowledges talent in every form and believes in nurturing it.  The potential talent of the students and staff are allowed to flourish and blossom.

Mission : 'Nahi gnyaanen sadrasham pavitramiha vidyate'. (There is nothing in this universe as pure as knowledge). It needs to be shared and exchanged freely, without any inhibition. It is very important to state that the 'vision' and 'mission' as stated by our founder members still resonates in our campus, echoing its relevance and importance.

In an era where discrimination is an acceptable norm and acting with prejudice is considered populist, the Podar mission of spreading knowledge without any preference and prejudice needs a special mention. It is said 'Knowledge is Power', but the mission of R.A. Podar is to empower all sections of the society, so that the entire society becomes stronger.

The philosophy of Podar College, translated into the mission and vision statements, is an integral part of any written material communicated by the college. A well mounted college logo at the college auditorium, which has stood the test of time , ensures the statements are visible to everybody, so that their actions reflect the philosophy and the ethos of Podar.